RCC receiving an award of OER TOP 20 OMAN's largest corporates
Date Posted: Oct 17, 2019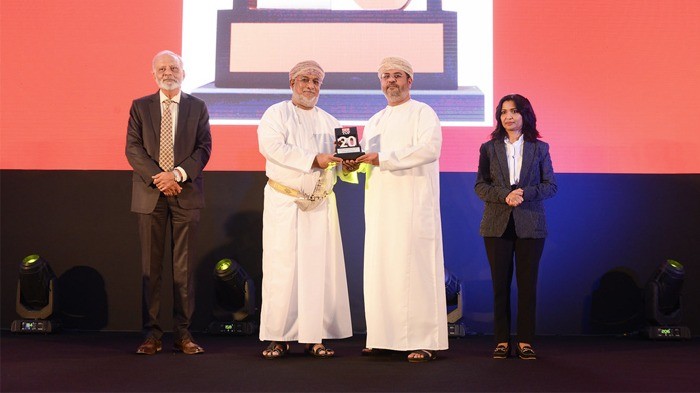 RCC has recently received an award of OER TOP 20 OMAN's largest corporates for the year 2019 in OER Business Summit, which was held in Sheraton Hotel, Oman, under the patronage of HE Yahya bin Said Al Jabri, Chairman of Board of Directors of the Special Economic Zone at Duqm (SEZAD). The award has been received by Mr. Khalid Al-Rawas –Chief of Performance Dept. on behalf of the Company. The official sponsor of the event was Sohar International Bank represented by Mr. Ahmed Al-Musalami- Chief Executive Officer, and members of the bank's executive management.
The 2019 edition of the OER Business Summit focused on the theme (Oman: Catalysts for growth) and shed light on the International Monetary Fund's prediction about Oman becoming the fastest growing economy in the GCC in 2019.
It's to be noted that, OER Business Summit is an annual forum, which gathers the key government officials in the Sultanate of Oman and the influential politicians, as well as, the pioneer companies in order to discuss the political initiatives, the new economic trends, the role of the private sector and the changing development dynamics in the country.
It's to be mentioned that, the winning of such award is a continuation for the rich record of the awards and certificates won by RCC, over the past years. RCC has won eight cups in the competition of H.M. the Sultan Cup, for the best five factories.
RCC has won a number of awards in September last year. It has won the "Green Era award" in the field of sustainability in the ceremony held in Rome, the Capital of Italy. It has also received award of the "Most trustworthy brand" in the Sultanate of Oman in October last year. It has also won the "Golden European award for Quality and Commercial status" in the ceremony held in Berlin –Germany, last July, and two awards of best trading brand award, according to the, Building and Real State sector – Cement and the best Company Social responsibility practices in the award ceremony of the Oman leadership for the year 2019.