RCC holding a gate meetings regarding the initiatives of the factory, to reduce the injuries during safety performance
Date Posted: Nov 10, 2019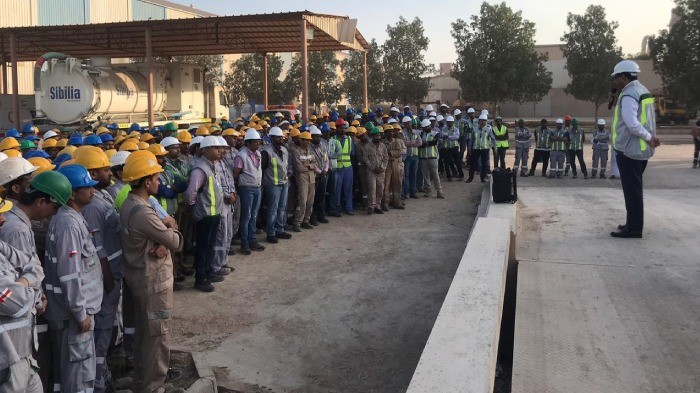 RCC has recently held the gate meeting organized by HSE Department, at the company, in the presence of the CEO and number of the Company staff and workers. The meeting has discussed several issues, including safety performance, production and quality.
Many new initiatives have been presented regarding the safety (isolation), a new isolation company has been formed under the presidency of the electricity Manager of the company.
The company has recently invited, "Bradly" to assess the isolation arrangements to promote the new isolation system for the factory (lock out, tag out, Try out).
The second initiative presented in the meeting has been (the equipment). Whereas, the management has conducted a careful auditing to all factory equipment guards, the auditing has identified the areas, which lack guards. Such initiatives shall support the safety areas at the factory.
The third initiative has been presented regarding (the safety areas) whereas, the factory has been divided into areas, a leader and deputy leader has assigned for each area. They are responsible for their areas check and for solving problems. The team includes electricians, mechanics, and production staff. The team task is to care about the safety in every area of the factory, and to access the equipment, to define the problems of the housekeeping such as the system leakage, and to prepare an action plan for execution of the corrective procedures.
A final initiative has been presented, which is for personal protection equipment areas. The personal protection equipment areas have been identified clearly at the factory to avoid confusion, where the personal protection equipment shall be worn due to the fact that, these areas are apparent in the factory operating areas.
The CEO and the Factory Manager have supported such initiatives, which were very clear during their speech of October gate meeting.