Inauguration of Multi-Purpose Hall at Al-Wafa Centre, Salalah
Date Posted: Jan 07, 2016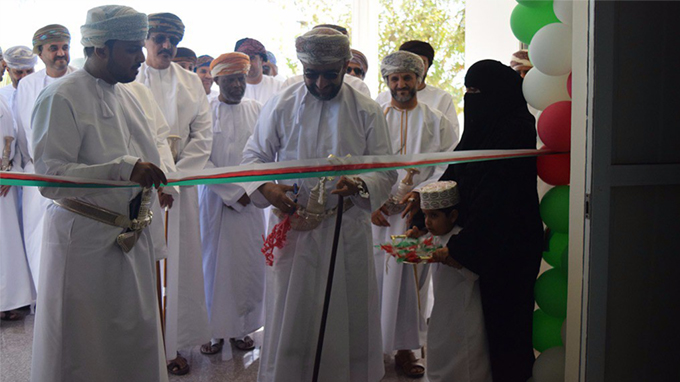 The Multi-purpose Hall building at Al-Wafa Centre for re-habilitation of Handicapped children at Salalah was inaugurated on 7th January 2016, with the support of Raysut Cement Company, under the auspice of H.E. Dr. Yahya Bin Badr Al Miewali, under Secretary of the ministry of social development, with the presence of H.E. Mohamed Abu-Bakr Al-ghassani- Deputy Chairman (Shoura Council) and Engr. Salim bin Alawi Ba'abood - RCC-CEO and a number of Government and private sector officials at Dhofar Governorate.
The ceremony started with the speech of the Director General of the Social Development, welcoming the presents, and then the Centre was opened by the Sponsor. It's accompanied by a welcoming section by the Centre Children, then a tour round the Centre, to see the new halls and other facilities provided.
The project includes the building, the offices, medical equipment. The building consists of 4 Multi-purpose halls, for functional treatment the physiotherapy, Articulation treatment, Individual sessions, administrative offices and waiting Halls for Parents.
Dr.Yahya explained that, this project is an excellent addition, in favour of handicapped Children re-habilitation services and their families, due to the advance quality facilities provided to re-habilitate those children. The officials of such a unit have made their efforts to rehabilitate the Handicapped Children. The beneficiaries have been well satisfied with such services.
We hope to continue such great efforts by the private sector within the scope of partnership between the public sector and the private sector.
Engr. Salim bin Alawi Ba'abood, RCC-CEO, declared that the main purpose of the support given to this project is the commitment of the company to its Social responsibility towards the community and to assist in developing and promoting our handicapped Children to overcome negative psycho-social effects of their disability.
We help them to depend on themselves and to participate and contribute in the community as producers and good members. He explained that, this project is the fruit of the bilateral Co-operation between RCC and the ministry of Social Development.
The company shall spare no efforts to contribute funding and supporting the Social Development projects through initiatives that serve the society. Engr. Salim appreciated the great efforts made by the ministry of Social Development to support and serve the community in all aspects aiming the society welfare.